About Us
Randolph Austin Company, Extrusion Division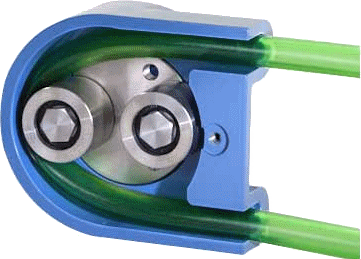 Randolph Austin Company began manufacturing flexible plastic tubing in 1981 when one of our manufacturing applications required very precise and fine-tolerance tubing which was not readily available from other flexible hose manufacturers.
Since that time Randolph Tubing has developed several types of tubing to complement the Randolph Pump in the transferring of different solvents, acids, slurries, inks and food products.
Because of our expertise in working with the Randolph peristaltic pumps, we know our tubing will work with most of the pumps on the market. Over the years, through rigorous research/development and testing (working closely with our customers) we now manufacture six different lines of flexible tubing for various fluid compatibility and applications: Cilran™, ED-Plex™, Prothane II™, Povinal™, Vytex™ and T-Alimen™, our newest and food-safe tubing for peristaltic pumps.
Water Soluble Plastic Tubing
In addition to our flexible tubing lines, in 1989 we developed a water soluble plastic material that is now used for packaging of foaming agents used in increasing gas well production. It is also used as a carrier for biocides and other applications requiring water soluble packaging.
Prothane II
™
In the early nineties we began work on a urethane soft enough to work as peristaltic pump tubing. Prothane II was developed for applications requiring demanding flex life and durability. It is now one of our most popular tubing types, and is one of the softest and most durable urethane tubing on the market.
Randolph Tubing also has food grade vinyl tubing as well as solvent resistant tubing used for transferring aromatic hydrocarbons such as toluene and xylene.
In addition to our extruded tubing lines Randolph Austin Company is a diverse company that is associated with the following companies:
Prototype Machine, Flatonia, TX
Cryogenic Plastics, Kyle, TX
High Performance Gear, Manchaca, TX